Voor 20:00 besteld, morgen in huis

Gratis retourneren

Vragen? bel +31 (0) 85 877 0871

Voor 20:00 besteld, morgen in huis

Gratis retourneren

Vragen? bel +31 (0) 85 877 0871

Voor 20:00 besteld, morgen in huis

Gratis retourneren

Vragen? bel +31 (0) 85 877 0871

Kwantumkorting

Nieuw in ons assortiment

Kwantumkorting

Nieuw in ons assortiment
Tonen als
Foto-tabel
Lijst
Producten 1-32 van 44
Pagina
U lees momenteel pagina

1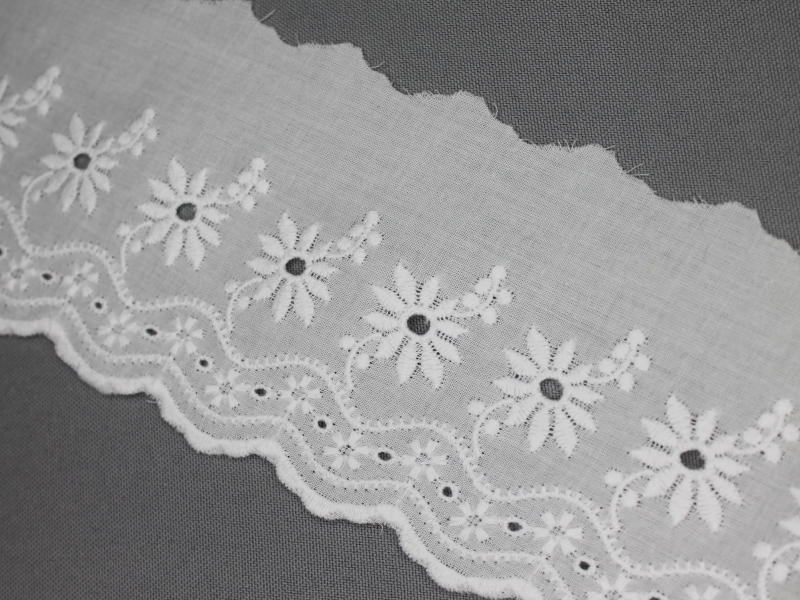 Broderie kant
Broderie kant is fijn geborduurde kant die meestal uit katoenen of synthetische weefsels bestaan. Sommige broderiekanten hebben een beetje een satijnachtige afwerking waardoor het nog mooier oogt. Broderie, afgeleid uit het Franse woord "broder", dat borduren betekent, wordt voor allerlei verschillende toepassingen gebruikt. Het wordt verwerkt in kleding, beddengoed, woningaccessoires, knutselprojecten enz.
De meeste broderie is wit van kleur. Maar uiteraard zijn er ook andere kleuren beschikbaar zoals broderie in ecru en zwart. Sommige broderie is geplisseerd. Dit geeft weer een heel ander effect dan de gewone broderie. De breedtes die bij de artikelen staan zijn de totale breedtes van het kant. Omdat deze weefsels niet helemaal recht zijn, wijkt dit vaak een fractie af van de werkelijkheid.
Broderie kant wordt per meter verkocht. Indien u meerdere meters bestelt leveren we dit uiteraard zo veel mogelijk aan één stuk. De opmaak varieert per dessin. Meestal heeft broderie kant een opmaak van 9,2 meter of 13,7 meter. Als u dus meerdere meters bestelt kan het zijn dat we dit in stukken moeten leveren.
Het grootste assortiment kantjes, bandjes en lintjes vindt u bij Fournituren 4 fun®.